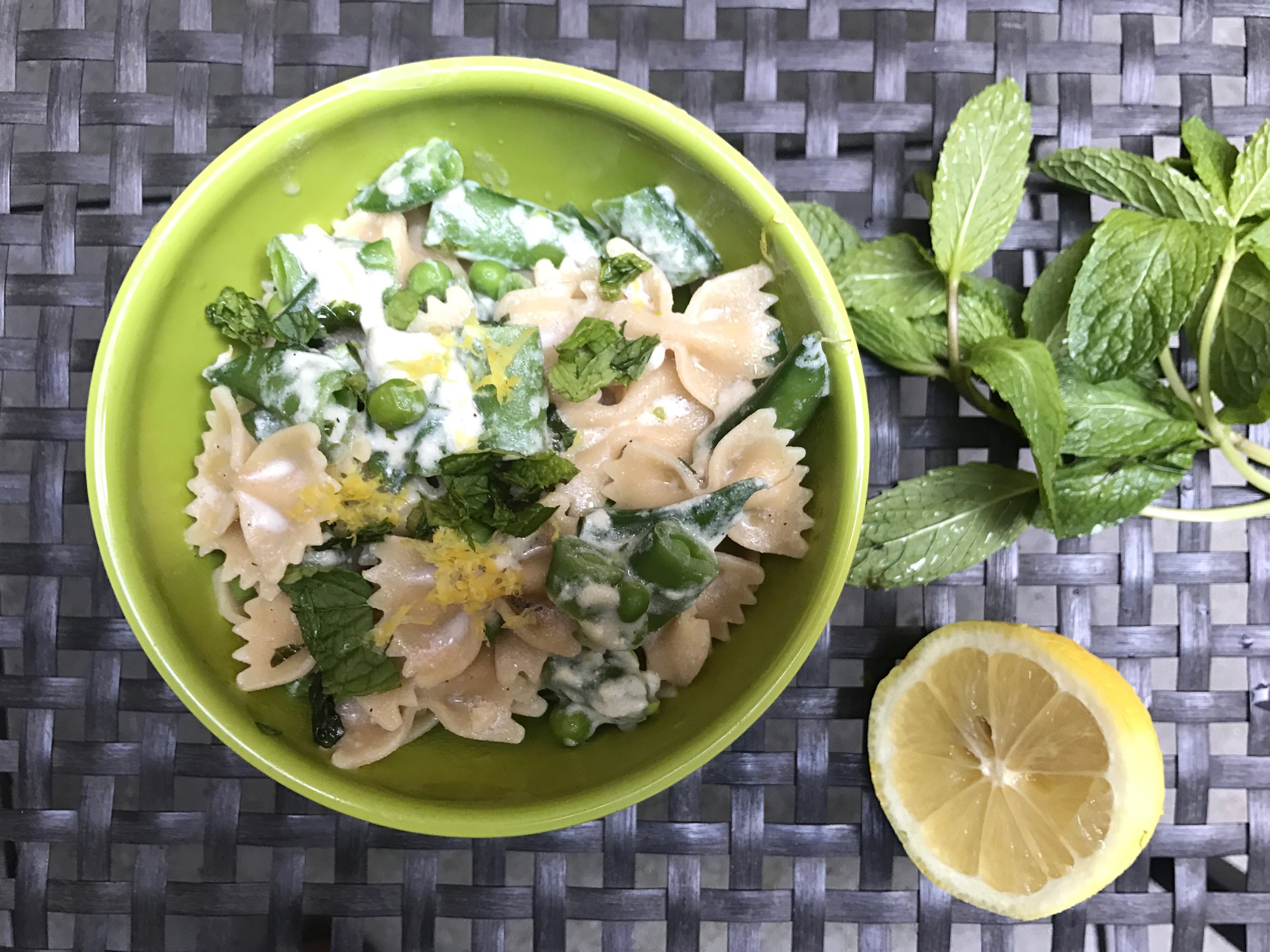 When spring has sprung but there's still a chill in the air, this dish is the dinner that's waiting for you to cook it. It has enough cheese to make it a comfort food for a chilly night, plus enough seasonal vegetables and herbs to make it both taste like springtime and redeem itself as a "it-has-green-veggies-so-it-must-be-healthy!" meal. For kids, it doesn't get more familiar than pasta with peas, which works to your advantage when introducing new flavors--starting with ingredients that kids are already familiar with is one of the best ways to expand their palates. In this case, your basic peas and pasta dinner gets upgraded with sugar snaps, lemon, mint, and basil to add tons of flavor and freshness for very little extra work. In fact, this whole dish comes together in as long as it takes for the water to boil and pasta to cook--and we bet you'll even have time to set the table too!
Pasta with Peas and Ricotta Serves 6-8 1 pound your choice pasta 1 pound sugar snap peas, cut into thirds 1 cup frozen peas 1/2 cup parmesan cheese 1 cup ricotta cheese 2 tablespoons olive oil Juice and zest of 1 lemon 2 tablespoons each fresh mint and basil leaves
Directions Bring a large pot of salted water to boil. While waiting, prep the remaining ingredients: Cut snap peas into thirds, zest and juice lemon, and chop up mint and basil. Cook pasta for two minutes less than the suggested cooking time on the package, then add sugar snap peas to pasta. Cook for two minutes more. Turn off the flame and stir in frozen peas until just warmed through. Drain pasta and pea mixture, reserving 1 cup of cooking water. Add pasta and peas back to the pot, drizzle with 2 tablespoons olive oil, ricotta, parmesan cheese, and 1/2 cup of pasta water, and cook over high heat for 1 minute, stirring constantly. Season to taste with salt and pepper, and add in more water if pasta looks dry. Right before serving, stir in mint, basil, lemon juice, and zest.