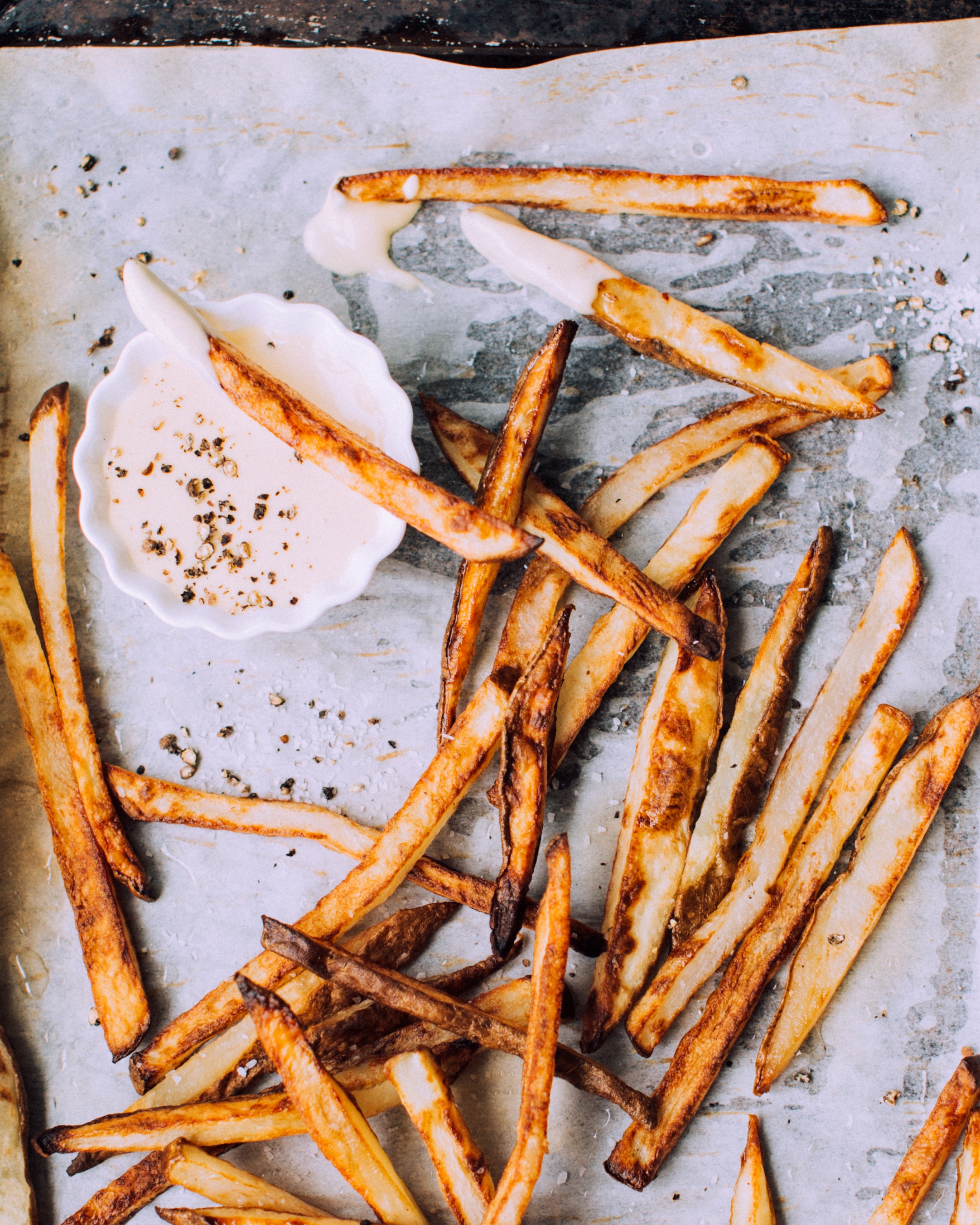 We're deep into the throws of Christmas vacation gone way too long—10 straight days of frigid sub zero temps followed by a blizzard that's cancelled school the week the kids are supposed to be back (and parents are supposed to be breathing a sigh of relief). It's been a long two weeks in the house, and although January normally calls for healthy recipes, we're craving some serious comfort food. And a babysitter. We're craving that too. But until than, we'll take these homemade French fries. While many versions of homemade baked fries end up soggy and sad, this version gets extra crisp by preheating the baking sheet in a hot oven and arranging the fries in a single layer. But perhaps the most important part is resisting the urge to touch them while they are cooking. Let them get crunchy and crisp up while you play referee on boredom-fueled wresting matches/ fights over what's on TV / general sibling showdowns that happen when you spend wayyy to much time together. What, is it only us?
Baked French Fries
Place a baking sheet in the oven, and turn your oven to 400 degrees. Scrub and pat dry 3 medium russet or Yukon gold potatoes.
Cut potatoes into evenly sliced 1/4 inch sticks (sticks should be evenly sliced to ensure they cook evenly). In a medium bowl, toss potatoes with 3 tablespoons canola oil, 1 1/2 teaspoons salt and 1/4 teaspoon pepper. Using an oven mitt, remove baking sheet from the oven. Spread fries on preheated baking sheet in a single layer, and making sure the flat side of the fry touches the sheet (and be careful since the baking sheet is hot!). Return to the oven and cook for 25-30 minutes, or until the bottom of the fries are a deep golden brown. Remove from oven, and use a metal spatula to remove fries from the tray. Season with extra salt to taste while they're still warm.